ISSA Specialist in Sports Nutrition
A good exercise program is only half the story. Equally important is proper nutrition. Synthesizing a cutting-edge, scientifically sound diet and nutrition regimen will radically increase the effectiveness of your exercise training sessions. As a certified specialist in this area, I can help you reach your performance goals faster than you'd previously imagined possible.
ISSA Elite Trainer
The ISSA Elite Trainer credential is awarded to accomplished ISSA Certified Trainers who have proven their competence in personal training and developed expertise in two additional areas of specialization. With scientific backing and practical application in the areas clients need help with the most, this credential proves that extensive education equals results.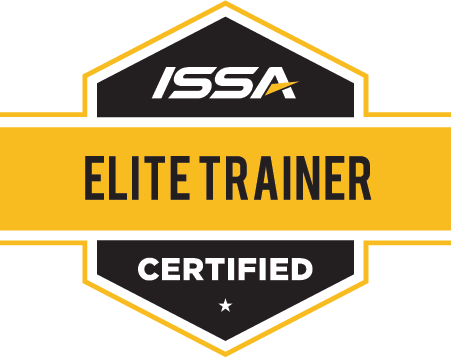 ISSA Certified Transformation Specialist
As a Transformation Specialist I'm armed with the skills and techniques required to truly coach and influence behavioral patterns as they relate to your physical, mental and emotional well-being. You will see better results faster, and have an easier time with the transition to the behaviors and activities I suggest.
ISSA Online Coach Certification
Online coaching has become a fitness trend in recent years. We are of the position that there is no match for in person training, but Online Coaching allows folks to get their training in on business trips, snow days, vacations or any situation that has you limited. If you have weights that's great, but body weight training is awesome.
ISSA CERTIFIED PERSONAL TRAINER
I became a Personal Trainer to make a differance. Looking for a Fitness Professional that does more than talk the talk? Tell me more about you in the "contact me" section BE GREAT TODAY